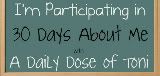 Man oh Man….this post could take a while.
I love to travel. It is one of my most favorite things to do.
If you really want to know where I would love to go all you have to do is visit my board on Pinterest called Places I want to Go . It is loaded with awesome pictures of the amazing places I am dying to visit some day.
There is no way I could just pick one place really.
Here is a short list though:
Paris
London
Spain
Bahamas
Alaska
Hawaii
Italy
Greece
Scottland
There are so many beautiful places in the world! I really hope I am able to experience them someday soon!
What are your dream vacation spots?