Today is National Healthy Weight Day.
I have a fantastic guest post today from Alysa Bajenaru. Alysa is a Registered Dietitian and she blogs at Inspired RD.  
Fast food. Hurry hurry hurry. Convenience. Processed. Dyed. Stripped. Sweetened. Instant.
Diabetes. Obesity. Heart Disease. Stroke. Cancer.
We were not made to eat this way.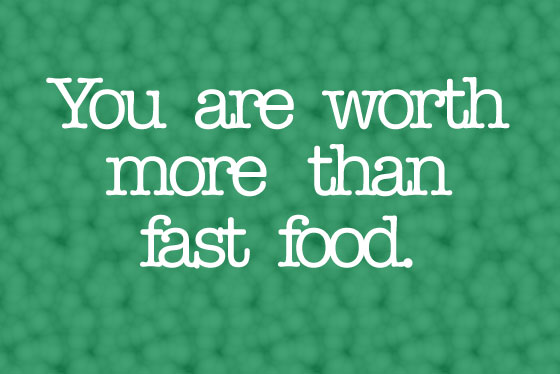 Here's the thing. You are worth more, WAY more, than fast food.
Do you know that, friend?
You are.
So, now that you know, what are you going to do about it?
My challenge to you is to take the first step. You can't be a master in the kitchen before you burn a few meals. You can't be an expert meal planner before you research your first healthy recipe. Take the first step.
Many people hesitate and procrastinate because they can't have it perfect from day one. I'm not asking you to be perfect. I'm asking you to get started. I wasn't a good cook in the beginning. In fact, I messed up A LOT. But you know what? Ten years later, I know how to put together a healthy meal with whatever I can find in the fridge/freezer/cabinet without using a recipe. Our pantry wasn't always stocked with the best foods, but little by little we replaced the least healthy items with better alternatives. It's still not a perfect pantry, but it's much better!
Healthy eating can be a struggle, I know that. It's much easier to give in to convenience and temptations. But anyone can form new habits, you just have to want it enough to stick with it. Once you get the hang of it, healthy eating can even become easy and fun. Really! Just ask Lori. She probably never thought the day would come when she would be excited about Brussels sprouts.
The point is to get started. You will be glad you did. And remember, you are worth it.
Click here for reuse options!


Copyright 2012 My Kinda Rain | Houston Mom Blog | Travel Blogger
The following two tabs change content below.